Providing Quality in Each Epoxy Application
A Look into Warren Environmental's Exclusive Approved Applicator Network
Written By: Greg Harris, CEO
Providing quality epoxy solutions for our clients is what we do. Warren Environmental understands that offering quality epoxy materials is key, but that expert product applications are equally as important to a coating's success. We believe that our products, equipment, and technology are only as good as the individuals who apply them—and this starts with Warren's Approved Applicator Network.
The Approved Applicator Network
Warren Environmental's Approved Applicator Network is a collection of organizations approved to apply Warren's epoxy products. It was created to ensure that Warren products are only applied by those who are properly trained, reinforcing our commitment to quality with each application. Warren's thorough process to vet out and select the right applicators is unique to our Approved Applicator Network.
Currently, 18 Approved Applicators belong to the network, including master applicator A&W Coatings. These companies span the country, applying our coatings solutions on projects in various industries such as water and wastewater, food and beverage, power, mining, transportation, naval, and pulp and paper, among others. To provide additional coverage to our customers nationwide, Warren is continually looking for applicators interested in becoming part of our network.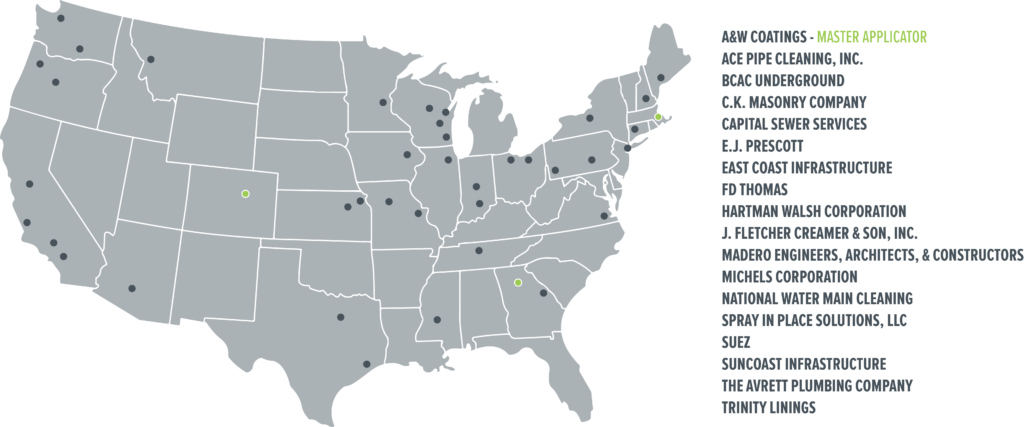 Becoming an Approved Applicator
The process to join our Approved Applicator Network is a thorough one—comprised of steps to assure a strong partnership and clear alignment between Warren and the interested firm.
As a first step, Warren evaluates the prospective firm by assessing their organizational values, goals, and past work history. Applicators must share in Warren's philosophies and values, as well as our dedication to safety, quality, and commitment to our clients.
Once deemed a good fit, the interested parties execute a mutual agreement to move forward, and the new applicator's technicians complete the Warren training program. After successfully completing the initial training, the applicator's employees are approved technicians of the Warren epoxy system. The applicator takes possession of their new state-of-the-art spray trailer and can begin applying Warren's epoxy on future projects. In most cases, Warren supplies a technical service representative for quality control support on the applicator's first few projects to ensure the process goes smoothly and answers any questions from the technicians. These representatives regularly inspect new applicators' projects to ensure the quality of their applications.
The mutual agreement is evergreen, automatically renewing every year as long as both parties are interested in maintaining it. As part of the agreement, the applicator receives 60 gallons of complimentary epoxy for use in demonstrations.
Approved Applicator Training
Hosted at least twice per year, master applicator A&W Coatings and Warren Environmental staff lead the three-day training program. The attendees begin the session with an initial assessment to test their knowledge, followed by presentations, hands-on training with the product and equipment, and ending with a final assessment.
Training covers the proper application of Warren's epoxy coating system by our veteran instructors. Bringing 20-30 years of experience solely using Warren's epoxy, they provide valuable pro tips in the application and use of our patented technology. Prospective applicators receive education on the following topics:
Warren's epoxy blends
Proper use of our patented spray pump system, as well as recommended surface preparations
Additional application methods
Testing/inspection of various surfaces using Warren specifications
Once training is complete, the applicators go through an approval process to obtain their individual certifications. To uphold their approved status, applicator technicians are required to attend Warren's training every three years. Once approved, the technicians can apply Warren's epoxy coating system on future projects.
Importance of Approved Applicator Network
Our Approved Applicators are focused on safety, quality, and the client—it is the bedrock of the relationship and the reason why owners and engineers continue to specify Warren Environmental on their most important projects. Warren Environmental's President, Brian Brandstetter, noted the Approved Applicator Network's importance stating:
"No matter how easy Warren's epoxy system is to spray, if it's applied incorrectly in the field, it could lead to failures. Warren offers multiple training sessions per year to our Warren family of applicators dedicated to the proper application of the Warren product in the field. Unique to Warren, we have a stringent process to become an Approved Applicator. After a potential company applies and fills out the Registration Form, we visit them to discuss moving forward, as well as inspect their work in the field and meet employees throughout their organization. Currently, we are only approving about 10% of applicants. While we understand this is not the fastest path to growth, we believe that building a strong Approved Applicator Network will lead to the greatest success for Warren's epoxy coating system in the end."
Warren's goal is to provide quality products and installations for each of our customers. Exclusively distributing our epoxy coatings to a network of specially trained applicators ensures quality coating installations, setting the standard for workmanship. In addition, it means our coatings will be used safely in compliance with the Occupational Safety and Health Administration's (OSHA) standards. Our epoxy must be applied safely and to Warren's standard of excellence—always keeping the client at the forefront.

Is your organization interested in becoming an Approved Applicator? Let's talk.