Reimagining Trenchless Rehabilitation Methods for Natural Gas Infrastructure
Department of Energy Advanced Research Agency-Energy selects Warren Environmental and partners for natural gas pipeline rehabilitation initiative
Written By: Brian Brandstetter, President
Warren Environmental (Warren), General Electric (GE) Global Research, and Garver have been selected as one of ten teams to participate in the Department of Energy's Advanced Research Agency-Energy's (ARPA-E) Rapid Encapsulation of Pipelines Avoiding Intensive Replacement (REPAIR) initiative—a program dedicated to research and development of advanced technological solutions for rehabilitating natural gas pipelines.
How did this program come to be, and why is it important? Let's start at the beginning.
The Challenge
Costly and time-consuming replacement of deteriorating steel and iron natural gas distribution pipelines
The Solution
Develop a 50-year trenchless rehabilitation option to replace traditional methods
About ARPA-E and the REPAIR Program
Founded by the Department of Energy (DOE) in 2007, ARPA-E was created to advance research and development (R&D) opportunities in the energy sector, with the purpose of funding innovative, sustainable ideas to improve how energy is consumed. ARPA-E's focus is on identifying high-risk opportunities that don't typically receive funding but have the potential to revolutionize technology within our industries. From this, the REPAIR research program was established.
The REPAIR program is dedicated to transforming the traditional open cut method of steel and iron gas pipeline replacement. In turn, creating a minimally invasive solution that significantly reduces the impact, duration, and cost of traditional gas pipe replacement utilizing a new state-of-the-art rehabilitation method.
In 2020, ARPA-E issued a formal request for proposal to pursue five different task initiatives. The GE, Warren, and Garver team proposal focused on Program Category 2, 3, and 4, an integration of the following system components: Structural Coating Material, Coating Deposition Tool, and Integrity/Inspection Tool Pipe Tests. From this stage, ARPA-E selected ten teams for participation in any or all categories. Over three years, these teams will develop robotic technology to rehabilitate small diameter pipelines. The robotic device must be capable of providing 3D mapping data, inspecting the existing condition, preparing the surface, lining with epoxy material, and testing post coatings application for verification. The end goal? A proven, comprehensive solution viable for the marketplace.
PipeLine Underground Trenchless Overhaul (PLUTO)
In response to the request for proposal, the GE, Warren, and Garver team submitted the PipeLine Underground Trenchless Overhaul (PLUTO) system, inclusive of new robotic technology, coating materials, and testing equipment.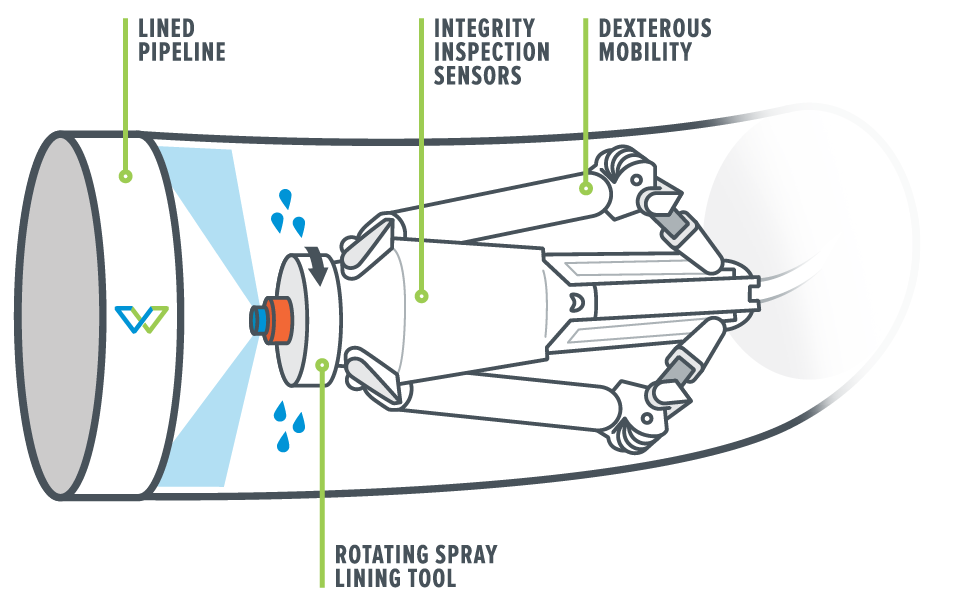 The PLUTO system will be designed to perform structural rehabilitation of gas pipes over long distances with increased speed, reducing costs otherwise incurred with full excavation and replacement. The system will be designed to perform such by inspecting existing pipe conditions, prepping the surface, lining with epoxy coating material via a rotating coating deposition device, and inspecting and testing for quality control—all performed by a robotic system capable of crawling through a 10-inch pipe.
About the Team
GE, a multinational company founded in 1892, is known for its history of excellence in various industries including power and energy. Their research and development division, GE Research, was established to create, generate, and develop innovative technology and products for countless industrial sectors. Founded in 1919, Garver is an employee owned multidisciplinary engineering firm. Ranked 125 in Engineering News-Record's Top 500 Design Firms, Garver brings extensive technical expertise and resources to the team. Warren Environmental, manufacturer of 100% solids, high build epoxy, is excited to team with GE and Garver to take on this unique initiative with the PLUTO system approach.
The GE, Warren, and Garver team is one of five selected for the combination of Categories 2, 3, and 4 while other groups are focused on associated project components such as GPS mapping and testing equipment. As our lead, GE will oversee project management, as well as collaborate with Warren and Garver to develop the following:
Dexterous robotic crawler containing the coating deposition tool
Pre and post coating integrity/inspection system including sensors for coating assessment, capable of detecting defects
With our epoxy coatings expertise, Warren's primary focus is to refine our existing epoxy products for compatibility with the new rotating spray lining tool, in addition to the following:
If needed, adjust current epoxy materials for iron and steel gas pipe
Create smart coating material additives compatible with an integrity/inspection tool
Produce coating material for testing
Perform testing
Garver will provide engineering services that include:
Current and historical information on key regulations and standards of pipes
Flow analysis
Economic analysis and cost estimating
Support and analysis during development of the tool and coating
Why the REPAIR Program is Important
The U.S. is facing a critical challenge maintaining legacy infrastructure, with thousands of aging gas pipelines needing repair. Currently, the only viable solution on the market presents significant cost and coordination efforts to turn off live flow or bypass the line. If PLUTO is successful, its cost and time saving benefits have the potential to change the future of gas pipeline rehabilitation.
Current Status of the Project
With notice of selection in April 2021, the project is currently in the research, development, and testing stage. Check back on our blog for milestone updates on this innovative project!
Want to learn more about this initiative? Check out this article featured on page 14 of North American Society Trenchless Technology's (NASTT) Northeast Regional Chapter's 2021 issue of Trenchless for Gas Infrastructure.